At Arts et Métiers, the shared objectives of research and industry partners drive many of our collaborations. They fuel the development of projects and skills in order to achieve innovative advances in research applications and technologies in response to rapid technological changes. This approach enables Arts et Métiers to maintain the highest level of expertise and to be involved in multiple European Projects, both as a partner and as a coordinator. 
Overview of Arts et Métiers projects that are currently funded by the European Union's prestigious Horizon Europe program.
MARS (Manufacturing Architecture for Resilience and Sustainability).
The MARS project aims to remedy to both issues by enabling SMEs to access advanced European breakthrough innovations in the field of AI-driven digital manufacturing processes and enter into process chains that are geographically distributed. Specifically, by gathering diverse expertise coming from complementary European partners, MARS will develop Industry4.0 emerging technologies including digital twins of products, processes and machines, bio-intelligent production devices with local intelligence and high sensing coverage, central intelligence with fleet learning approaches, data-driven manufacturing process models from different sources, blockchain technology for data hashing, traceability and securitization, multi-agent based manufacturing planning, multi-criteria intelligent optimization of processes and resources especially addressing environmental footprint.
GENEX project aims at developing a novel end-to-end digital twin-driven framework based on enhanced computational models, which embed the interdisciplinary knowledge of the aircraft components and the manufacturing/repairing processes, to support the optimized manufacturing of composites parts, enable the continuous operation of aircrafts and improve the composites repairing processes for ensuring aircraft´s safety and airworthiness.
R3GROUP: Reslient Rapid ReconfiGurable pROdUction Process chains
The objective is to develop and demonstrate resilience strategies for reconfiguration. The project will carry out industrial demonstrators in diverse manufacturing sectors (automotive, fabricated metal products, rubber and plastics, wearing apparel, home appliances) facing various reconfiguration issues (scale up or down, introduction of new suppliers, accommodation of multiple product variants, resilience to unforeseen events), engaging end-users operating with different business models (B2B, B2C) and on different positions in the value chain (OEM, Tier 1). R3GROUP will develop human-centred solutions and put special focus on reskilling to support the adoption of novel technologies.
PIONEER aims the development of an open innovation platform and interoperable digital pipeline for addressing a design-by-simulation optimisation framework. For that, PIONEER implements inline feedforward control strategies for enhancing the efficiency of the industrial systems in high-mix/low-volume production schemes, based on the connection between materials modelling and materials characterisation, simulation-based digital twins and data-driven models, updated through distributed production data from embedded IoT edge devices and product quality.
Maxima: Modular AXIal flux Motor for Automotive. The objective of the MAXIMA project is to develop and validate a complete methodology to design an EM as well as the associated production system for the automotive core market. This methodology will have to deal with often incompatible constraints such as efficiency, costs reduction, high performances in terms of power/torque density, and high recyclability, especially for critical raw materials. To achieve this objective, MAXIMA will focus on a dedicated topology: Axial Flux Synchronous Machine (AFSM).
Overview of Arts et Métiers projects that are currently funded by the European Union's prestigious Horizon 2020 program, including Research and Innovation Actions (RIA), Innovation Actions (IA), ERCs, and Marie Skłodowska-Curie Actions:
ONGOING PROJECTS :
MORPHO (Manufacturing, Overhaul, Repair for Prognosis Health Overreach) proposes to embed printed and fiber-optical sensors in each aircraft engine blade, thus providing them with cognitive capabilities directly from production and developing a digital/hybrid twin models to improve their manufacturing process and operational availability, without compromising safety, as well as their Life Cycle Management (LCM). The European Commission awarded a Research Innovation Action grant of € 5 million to the project and Arts et Métiers is the head coordinator.
ACONIT (Actuators for Surge Control in Gas Turbine): the objective is to design, manufacture and test actuators for flow control, for implantation in an aircraft engine in order to fulfill aeronautics needs. Focusing on the extension of the stable operating range of the axial compressor will allow a reduction of the surge margin by postponing the stall onset.
PERSEUS
PERSEUS (Pulsed jEt actuatoRs for SEparation control of tUrbulent flowS) will combine wind tunnel experiments with numerical simulations and sensitivity analysis to improve the control authority of pulsed jet actuators to separated turbulent flows over a 2.5D airfoil equipped with a flap. The target of this approach is to determine the minimum net-mass-flux required by pulsed jet actuators to compensate for the momentum deficit in the boundary layer and thus reduce CO2 emissions, while improving the maneuvering capability, safety, and durability of the aircraft.
INEDIT (open INnovation Ecosystems for Do It Together process) creates an open innovation European DIT ecosystem for sustainable furniture co-creation. Through its twin - digital and physical - platform, it intends to demonstrate the innovation potential of social manufacturing within the circular economy by designing globally while producing locally, thereby reducing CO2 emissions, creating EU business and job opportunities, and reducing ethical concerns.
THREAD (Joint Training on Numerical Modelling of Highly Flexible Structures for Industrial Applications) addresses the mechanical modelling, mathematical formulations, and numerical methods for designing highly flexible slender structures, as well as the complex response of such structures in real operational conditions.
FastMat
FastMat (Fast determination of fatigue properties of Materials beyond one billion cycles): a project designed to develop a new method that considerably reduces the duration of fatigue characterization as well as experimental and numerical tools for the fast determination of fatigue behaviour.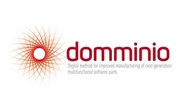 DOMMINIO (Digital method for imprOved Manufacturing of next-generation MultIfuNctIOnal airframe parts) aims at developing an innovative data-driven methodology to design, manufacture, maintain and pre-certify multifunctional and intelligent airframe parts through a cost-effective, flexible and multi-stage manufacturing system.
COMETAS
COMETAS (COncurrent METAmaterial-Structure design using functionally graded metamaterials): is a highly multidisciplinary and intersectoral project to develop an integrated, reliable and efficient multiscale methodology for Concurrent Metamaterial-Structure Design employing functionally graded mechanical metamaterials. It integrates the metamaterial design concurrently with the structural design through double inverse analyses and surrogate continuum models obtained by data-driven techniques.
XS-Meta (Cross-Scale concurrent material-structure design using functionally graded 3D printed Metamaterials): the objective is to train a new generation of researchers in concurrent material-structure design of high-technology structural systems, using functionally graded 3D-printed metamaterials. Applied mathematicians, materials science and manufacturing engineers, continuum mechanics engineers and design engineers combine their theoretical, experimental, computational and industrial knowledge to create a completely novel approach in the design of components of high industrial and social value.
ISOLA will develop, integrate, test, deploy, demonstrate and validate a systematic and fully automated security approach by incorporating innovative technologies for sensing, monitoring, data fusion, alarming and reporting real-time during illegal incidents.